These five giant brands have produced the best side by side refrigerator that users love so much. They may be different from one another in terms of company goals and missions, but one thing is for sure – they all want to bring comfort and satisfaction to their customers. The products that they produce, innovate and market are not just modern looking appliances but also functional and important.
With that in mind, here are five refrigerators representing each of these big companies:
What is always refreshing and wonderful about an LG product is their price is amazingly low and yet, the performance is top notch. LG LSC22991ST is one of the fridges that can be termed as best side by side refrigerator from LG. It is being sold at $2699 and was rated 4.9/5 stars by its consumers.
The fridge is 21.5 cubic feet, with freezer capacity of 7.2 cubic feet while the refrigerator is at 14.3 cubic feet. It is also a counter-depth refrigerator and has the door in door feature. This means that the fridge is sleek enough to fit a regular sized counter and that there is a small door where you can put your on the go foods – you do not have to open the whole refrigerator door.
In the physical aspect, it looks great no wonder it is one of the best side by side refrigerator from LG. The stainless steel color and the contoured body and handles make it appear conventional. It has a child lock feature, automatic alarms, it is noise-free and the LED lighting brightens the whole ref.
The shelves are spill-proof and the bins were created to accommodate containers as big as a gallon. It too dispenses filtered water and ice. Speaking of ice, crushed and cubed, you can have it anytime you want.
General Electric or GE has been lighting up American homes since 1892. This is why the name is a common talk in any household. They are rarely overpriced and it proves true for the GE GSE25HMHES model. It only costs $1600. This best side by side refrigerator from perhaps one of the oldest appliance company in the whole world, this model, is being rated at 3.7 over 5 stars. Let us see why.
It is ADA compliant and an Energy Star certified model – this appliance helps save Mother Earth. With this alone, you can safely say it has 5 stars already. But we cannot please everyone and they are entitled to their own opinion. One bad comment said that they didn't like the manual that came with the ref. (but the fridge was working great). Another negative judgment of best side by side refrigerator from GE was the delivery company and the installation which was not in any way connected to GE (independent contractor). The last not so good review was that after 6 months of using it, the liner cracked. There is a 12 month warranty; the user should have had it replaced since GE would be very much willing to do it.
This fridge can be rated as high as a perfect score: freezer has glass shelves which promote high-end design, the water filter system takes away pharmaceuticals in the water and ice, the shelves and bins are sturdier than sturdy, there are multi-level drawers for organization purposes and it is just space all over with freshness seal. This best side by side refrigerator made by GE is not a 3.7 refrigerator, not at all.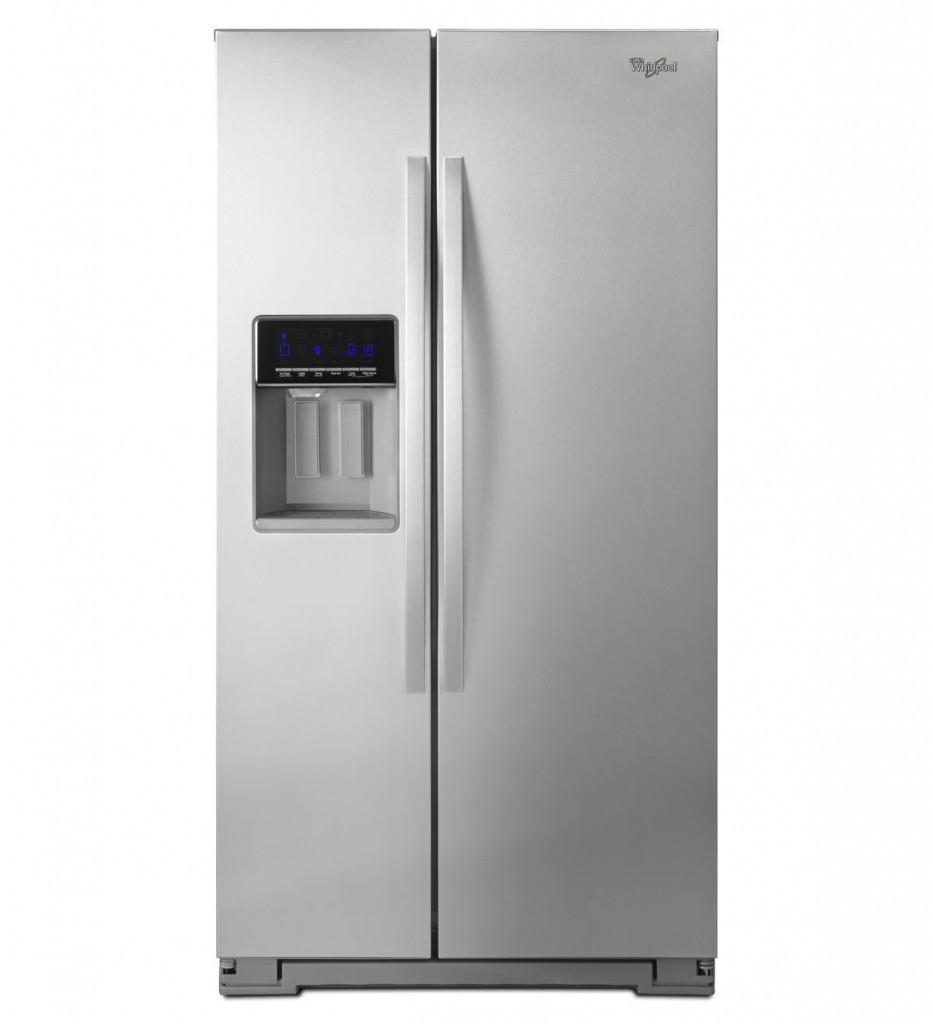 Whirlpool WRS571CIDM is a solid 4 star refrigerator and it has proven to be a likeable kitchen appliance.
This 20.6 cubic feet refrigerator is selling at $1699 and that is free shipping as well. What is so great about this Whirlpool fridge?
It is a counter depth unit with monochromatic stainless steel finish. The glass shelves are frameless for maximum storage capacity. The door bins are can accommodate gallon big bottles without having to worry about slipping or cracks due to heaviness. The bins are very quality made. This best side by side refrigerator model from Whirlpool can chill or cool your food in a flash with its Accu-Chill™ feature. It has an ice maker and gives filtered water too.
Buyers like this model because of the following reasons (actual testimonies) easy to clean, right temperature, adjustable shelves, ice dispenser, counter-depth feature and money saving. On another note, there were some dissatisfied customers who said things like missing bins upon purchase which can be complained and asked for without extra pay, crowded space inside the fridge in which they very well knew how it measured before buying it and that this best side by side refrigerator froze up after 90 days – if this really happened, Whirlpool will replace the unit without questions. Keep your receipt just to be sure.
It is always a relief to find out that the appliance specifically the refrigerator you are interested at is Energy Star qualified equipment. This is an advantage among others by Samsung RS22HDHPNSR model refrigerator. With that certification, the price is not anymore an issue but still, with that the price of this fridge is $2399. Users commented an average of 3.5 stars for this model.
It is a counter depth fridge at 22.3 cubic feet which can store up to 22 bags of food. This best side by side refrigerator from Samsung offers 6 bins for storage while the freezer has 3 shelves. The whole unit is brightened in LED lighting. Your fresh foods will last longer and the freezer food will have less freezer burn thanks to their Twin Cooling Plus™ feature. And who does not want an ice maker/water dispenser? It makes everything so convenient.
Some owners provided excellent for this unit. Comments like great look, durable, performing great even after 2 years, spacious inside and really quiet, ice maker and child look features. 1 star buyer reviews exclaimed their annoyed reasons for this best side by side refrigerator from Samsung like ice maker does not work (ask for assistance, then), some areas had rusting after two years (poor cleaning perhaps?) and terrible design (then, why buy it if you felt that way?). It is a matter of opinion.
Most side by side fridges are counter depth units too and the Frigidaire FPHC2399PF model is one of them. It measures 22.2 cubic feet and is being sold for $1899. The fridge is ADA Compliant; CSA certified and has the KOSHER label.
You can organize your food and beverage in this fridge without troubles because almost everything inside the fridge can be adjusted according to you needs. This best side by side refrigerator unit created by Frigidaire has clear crisper drawers; spill proof shelves and has a lot of space. And oh, shelves are sliding too.
Like all modern refrigerators, it has LED lighting and filtered water. The fridge was designed to save energy consumption and purify the air within the refrigerator area. It has an automatic alert if left open and if you plan to go on a long trip, no need to worry about this model. It will flip into its energy saving mode if left unopened for 24 hours.
This has a deli drawer for your food favorite storing needs. Fresh foods in your crisper are chilled accordingly and with that, it remains fresh at a longer period of time. This best side by side refrigerator from Frigidaire is worth every penny. The features say it all.